Elluminate Elects New Board President
STEPHANIE GARRY IS NEW PRESIDENT OF ELLUMINATE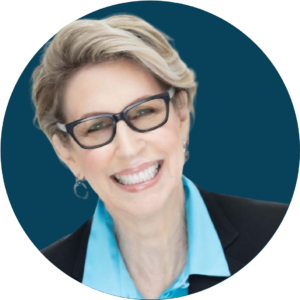 New York – Sept. 12, 2023 – Stephanie Garry, a longtime Jewish communal leader locally, nationally and globally — and a staunch advocate for the elevation of Jewish women as social change makers — has been named President of Elluminate.
Garry, who served as Vice President since 2021, succeeds Rachel Weinstein and will serve a two-year term as President of Elluminate, formerly the Jewish Women's Foundation of New York.
"It is a true honor and privilege to assume this role at a time when it is critical to bring the voices of Jewish women social entrepreneurs — in all of their diversity and across their range of experiences and accomplishments — to lead societal conversations about 21st century challenges and to apply solutions.
"I am looking forward to working with Elluminate's expanding cadre of extraordinary Jewish woman change makers, our family of visionary philanthropists, and our dedicated board and staff — including our new CEO — to move our dynamic organization forward as a catalyst of positive impact worldwide."
Garry, who is Executive Vice President of Communal Partnerships at Plaza Jewish Community Chapel in New York and has been with the organization for 21 years, has a varied background within and beyond the Jewish community.
A native of Kansas City, Missouri, she came to New York out of college as an aspiring actor and has appeared in about 1,500 television commercials for major corporate brands. She has served as president of Temple Shaaray Tefila in Bedford Corners, NY; community outreach coordinator for the Westchester (NY) Chapter of the American Jewish Committee; member of the Executive Committee of the World Union for Progressive Judaism; and, member of the North American Board of the Union for Reform Judaism. She also is host of the podcast Exit Strategy, which received the 2023 Communicator Award for Distinction.
Garry belongs to Congregation Rodeph Sholom in New York, where she is a member of the Caring Committee, and is also a member of Temple Shaaray Tefila in New York and Temple Shaaray Tefila in Westchester (NY) County. She is a board member of The Hadassah Foundation. an associate member of the National Association of Temple Administrators, and is a long-standing member of the lay advisory board of The New York Board of Rabbis. In addition, Stephanie is on the Reimagine360 Advisory Council.
"As I begin my tenure with Elluminate, I am thrilled to partner closely with Stephanie Garry as we step into our new leadership roles together," said Melanie Roth Gorelick, CEO of Elluminate. "We are lucky to have her at the helm at this time in the organization's history as we strengthen and deepen our work to support Jewish women' social entrepreneurial leaders as individuals and amplify their collective voice."
Garry lives in Stamford, Connecticut with her husband, Art Tatge.
About Elluminate: Elluminate (formerly the Jewish Women's Foundation of New York) empowers trailblazing Jewish entrepreneurial women and visionary feminist philanthropists in their pursuit of systemic social change in the U.S. and beyond. Bringing together a diverse coalition of bold women, we address the unique challenges faced by female leaders, ensuring that they are supported and elevated as they battle to change the world. Together, we work as a force multiplier for vital social change, fostering collaboration, strengthening leadership capabilities, magnifying voices, and accelerating transformational influence and impact. www.elluminatewomen.org